Working with mind maps
Insert topic
Use the PLUS button on the map's top toolbar.

Click on the arrow icon in the top right corner of the topic and choose "Insert Subtopic" from the context menu.

Hover your mouse over a topic, click on the triangle which appears inside in the middle and drag to insert a new topic.
Use the keyboard shortcut for a quicker topic creation: press the TAB key to insert subtopic and ENTER to insert a sibling topic.
Topic customization
Font panel to format the topic's text
Bold, Italic, Underline and Strikethrough - use these to format your text.
Text Alignment - you can choose Left, Center and Right.
Font Size - change the size of your text.
Background Color - choose a background color for your topic.
Font Color - choose text color.
Font Family - choose from various fonts.
Line Color - the connection line color determines the topic color.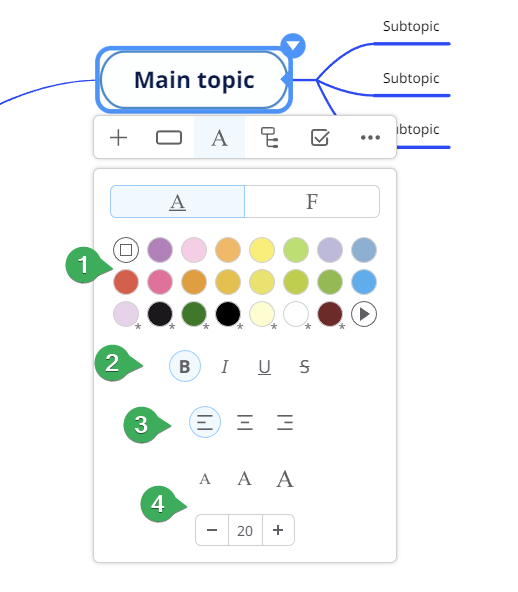 Topic style
Predefined topic colors
Topic style - with or without gradient, with or without border.
Customize the topic border - set the border's color and weight.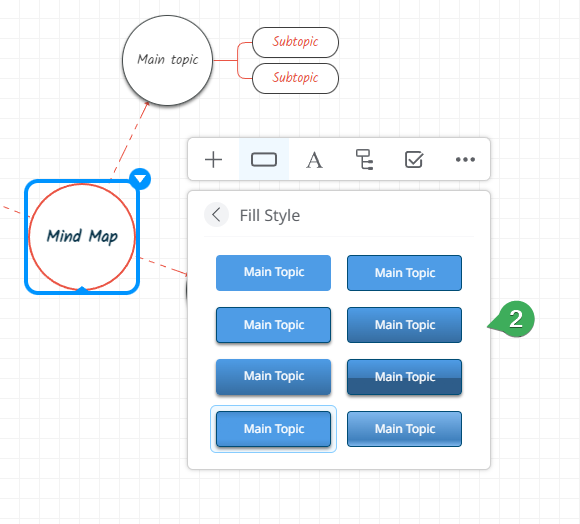 Topic connections
Layouts - choose from several layout types
Connection types - straight, arc, rough, curve, elbow, rounded elbow, angle, no line
Settings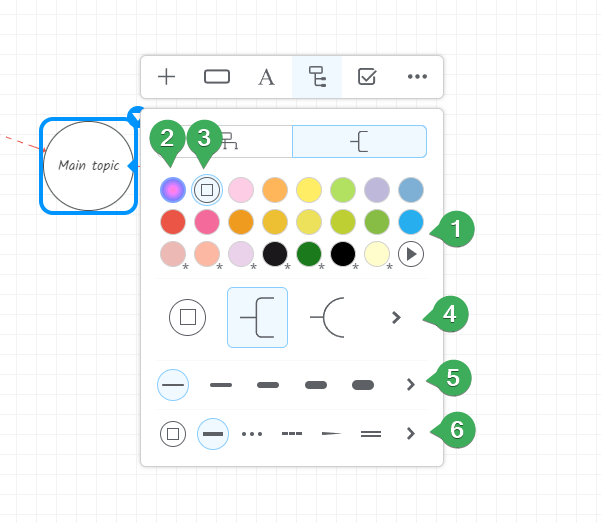 From the settings panel you can set:
Weight of the connections
Color of the connections
Spacing between branches
Spacing between topics
Anchor points
Topic shape
There are various shapes you can choose from: rectangle, rounded rectangle, elliptic rectangle, circle, oval, line, capsule, parallelogram, hexagon, rounded hexagon, diamond, left arrow, right arrow, and trapeze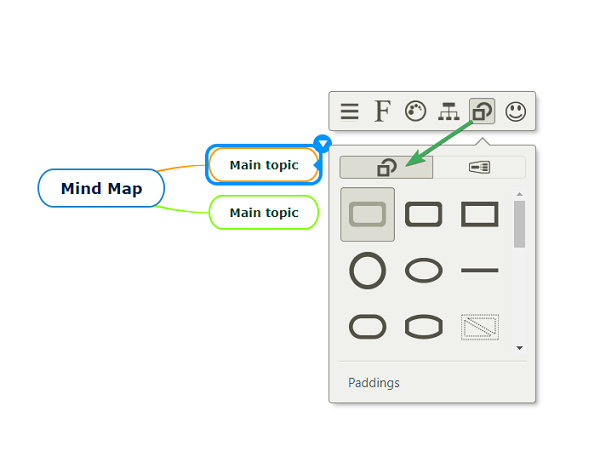 Boundaries
The Boundary functionality will help you mark and determine the limits of an area on your map.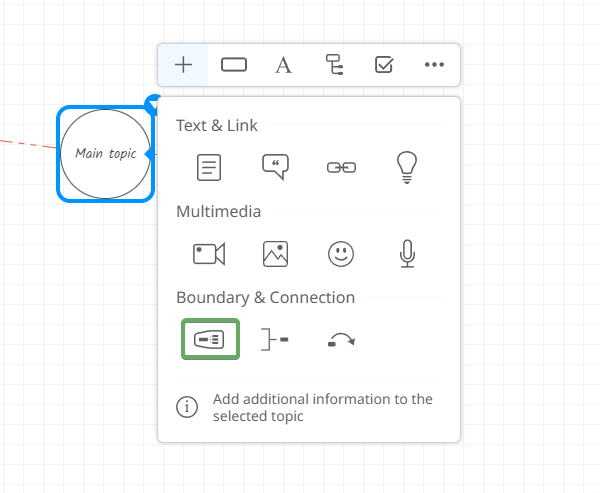 You can customize the boundary from the context menu. You have options to remove the boundary or its border. Also, you can set the the boundary's color, line weight and pattern.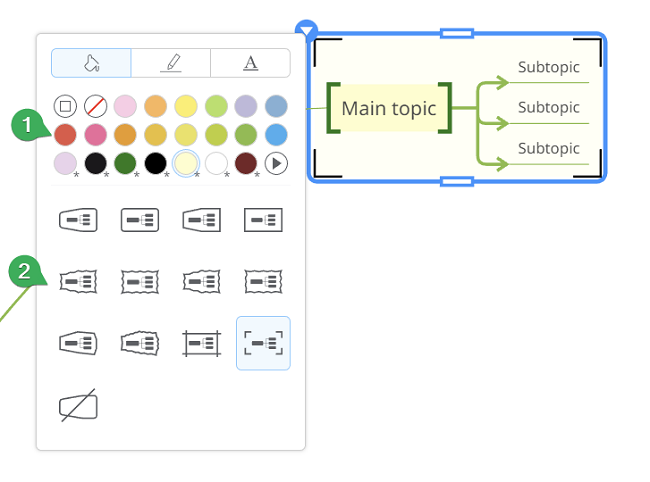 Customize map theme
Predefined map themes
Map background - set a color or add an image as the map's background
Theme Editor - Create your own personalized theme for mind maps concept maps and organigrams (custom font sizes, colors, shapes, and background colors or picture)
Import/Export themes
Info
The Theme Editor and Importing/Exporting themes functionalities are only available with a paid subscription.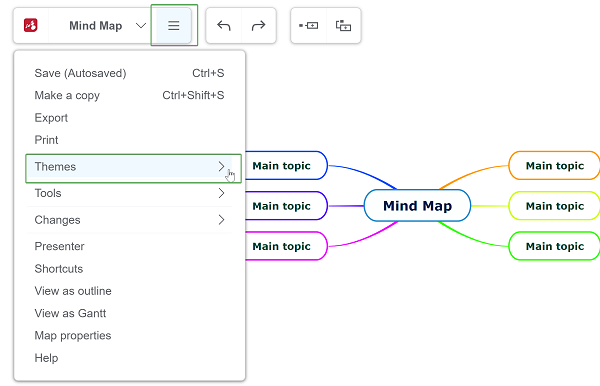 Add Relationship
Click on the "Relationship" icon to insert a relationship between two topics.
To customize the relationship's appearance, you will have to hover over and click on the triangle. You can change the relationship's color, weight, shape, pattern and its arrows.
You can add and edit label on the relationship.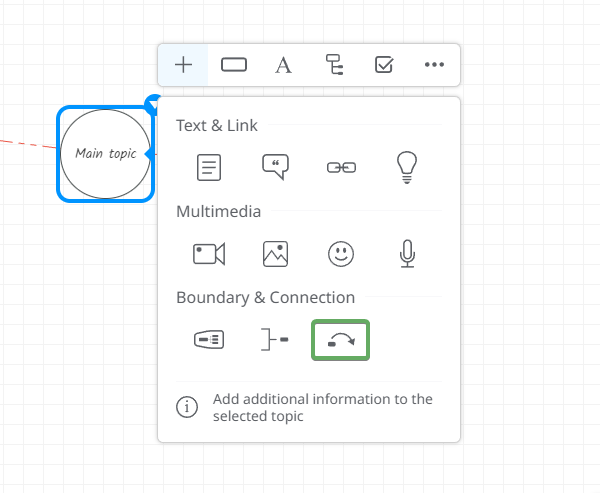 Undo & Redo changes
Click on the arrows from the top toolbar to undo and redo your changes:
Note
Undo and Redo are disabled when you are working with your colleagues simultaneously on a shared mind map. Also, they are automatically disabled when the same map is opened from different locations: different computers, two or more browsers, in the browser and desktop apps or in the browser and mobile apps.
Add Notes
To add larger body of text to any topic use the Notes panel:

Format text as Bold, Italic, Underline

Set the text color
Numbering & Bulleting
Set the text alignment
Remove formatting
Set the font size
Insert: mathematical formulas, direct links and videos
Editing formats: code block, quote, strikethrough, sub- and superscript
Delete notes
Hyperlinks & Attachments
You have various options to choose from when it comes to hyperlinks:
Insert URL - insert a link
Upload File - use a document from your own computer
!!! info Uploading personal files is available only with a paid subscription.
Topic - select a topic to link
Map - select a map to link
If you have recorded a mistake in the process or you want to delete a hyperlink, you can always use the 'Remove' button that follows the hyperlink. Once you have inserted the correct hyperlink, press ENTER to add it to your map.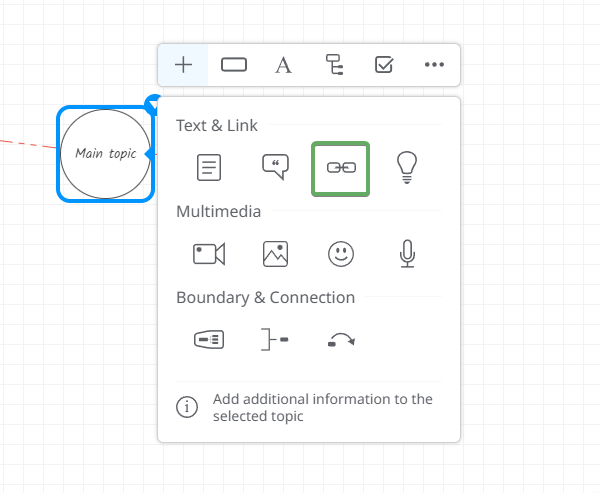 Add attachments
Drag & Drop - select the file, drag it on the map and drop it in the Hyperlinks & Attachments panel.
Browse - upload the file from your computer.
Attach Uploaded - upload the file from Mindomo.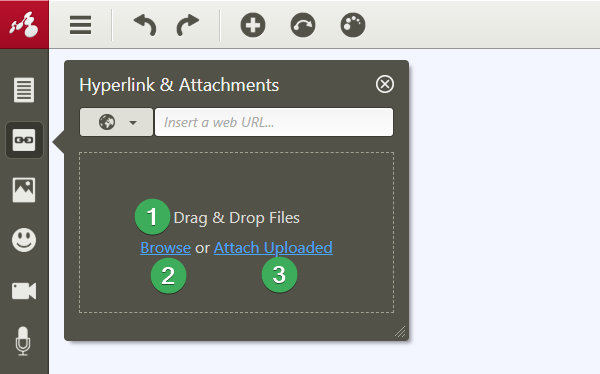 Info
Uploading attachments is only available with a paid subscription.
Add Images
Insert multimedia URL
Search images on the Internet
Upload new files or attach uploaded

Mindomo image galery

Info

Uploading image files and searching for web images is available only with a paid subscription.
### Add Videos 1. Insert multimedia URL or upload new files 2. Attach uploaded 3. Search videos on YouTube and Vimeo
![](images/video.png)

Add Audio & Recordings
Insert multimedia URL or upload new files
Attach uploaded
Record audio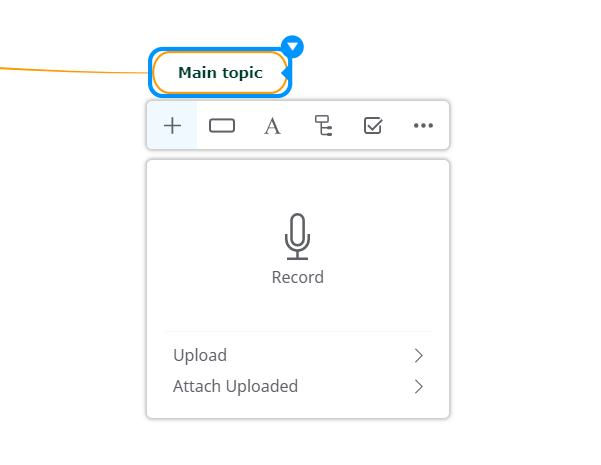 Printing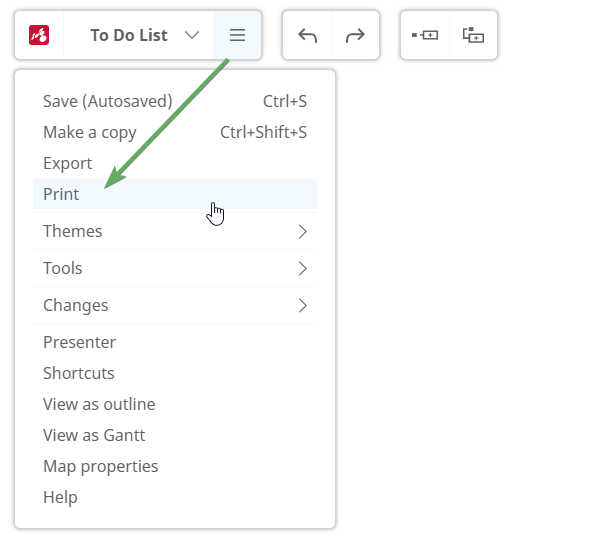 Info
The Printing functionality is only available with a paid subscription.