Introduction
Educate your Mind to Be Creative
21-st century educators and learners need to be properly equipped to face the challenges of information overload with mind mapping. This powerful educational tool helps you develop into an effective critical thinker, a creative problem solver, and a collaborative learner.
The Role of Mind Mapping In Education
To Develop the Collaborative Learning Skills of Students
To Encourage Creative Problem Solving within the Classroom
To Optimize Learning Across Disciplines
To Facilitate the Development of Independent Thinking Skills
To Organize the Teaching and Learning process

To Help Teachers easily communicate with students
Creative teaching is not about shaping up your students according to your curriculum, it's about your curriculum being shaped up according to your students' needs.
Check out this section to see how Mindomo supports learning.
Mindomo as a teaching tool in the hand of a teacher
is a door-opener for collaborative work for students and teachers alike
makes easy the creation of assignments for students in any field of study
facilitates the online management of students and their assignments
enhances the development of the curriculum according to students' needs
makes teaching easier by explaining concepts in a visual way using mind maps
offers mind mapping templates that students can easily integrate in their activities
offers ideas for classroom exercises
makes every subject more appealing for students
makes learning fun, so students will have better results
Check out this section to learn more teacher activitites with Mindomo.
See some of Mindomo's benefits and activities that teachers can do to improve their teaching:

Creative learning does not involve adapting to new information but adapting new information to your mindset.
Mindomo can be used in and outside the classroom and encourage independent learning and improving study skills. The assignments can be set up easier - teachers can keep the entire record of students' work and see the dates when they made changes to the map (added topics, images, new connections, etc.).
Grades are easier to establish by saving all the grades in a downloadable report and seeing the grades overview.
Mindomo as a learning tool in the hand of a student
increases the collaboration with other classmates as they work together on assignments
facilitates brainstorming and collective learning
makes possible assignment revision through technology
encourages note-taking in class through mind mapping
is key to developing creative thinking which can be transferred to various fields of study
helps for organization and structuring of information, for analyzing and synthesizing documents, articles, or books
helps students creating a detailed plan before they start working on a project
helps to organize mind maps and assignments using folders
offers various templates that can guide students to realize their assignments
helps students understanding concepts easier
increases students' creativity
develop students' long-term memory
helps them easily adapt to a new subject in school
help them learn different concepts directly from templates, even without the help of a teacher, and better prepare for exams
write essays with ease starting from the main idea and developing it
Check out this section to learn more study activities that students can do with Mindomo.
In this mind map, there are mentioned some of the benefits of Mindomo and activities that students can do using this tool.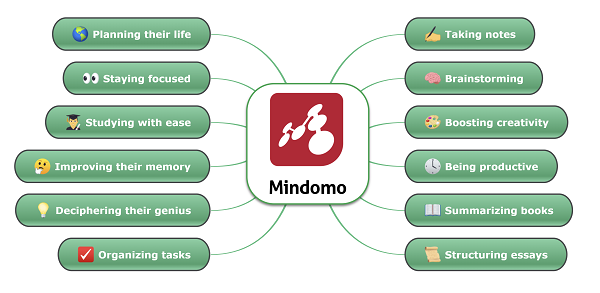 Using mind maps makes learning easier and helps developing thinking skills. The mind maps created with Mindomo help in understanding the course material, reviewing and memorizing, planning and writing essays.
90% of the information transmitted to the brain is visual, so Mindomo is a great tool for fast learning.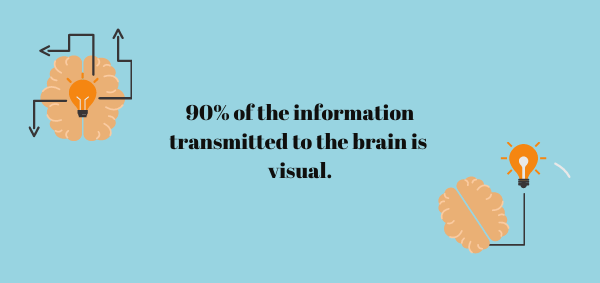 Also, mind mapping can improve learning and memory by 10 to 15% versus conventional note-taking and studying.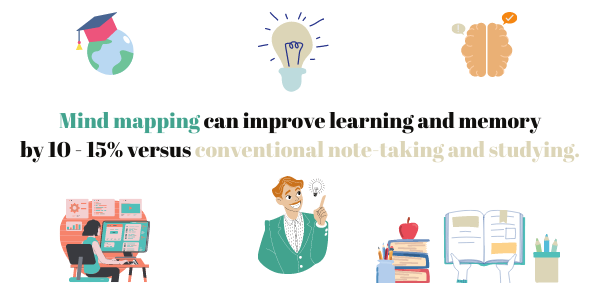 Mindomo has a live chat where students can discuss with their colleagues directly on the map.
Maps can be shared very quickly between students and teachers on Mindomo or via e-mail. Students can receive feedback in a very easy way.
Students and teachers who create a Mindomo account can get instant access to mind map assignments by using their names and access codes.
Students can also create accounts that don't require e-mail registration and do the assignments shared by teachers. However, if a teacher has a premium subscription on Mindomo and shares the assignment with students, they will have premium rights only on that assignment.
For Schools licences, an administrator can invite students and teachers to join the school. In this case, when they create their account, they will automatically have premium rights. The number of people that can join the school and have access to the premium features is chosen by the person/entity that bought the license. The number of students/teachers can be supplemented later.
Mindomo can be used directly from Google Classroom/Apps and Office 365 accounts and platforms like Moodle, Blackboard, Canvas, Desire2Learn, Clever, itslearning, Schoology, or any other learning management system.
Mindomo can be used in schools or at home and improve students' capacity of learning, reduces the time required to complete projects, helps teachers evaluate assessments and encourage long-term learning.
Learning with mind maps is more efficient and helps students learn faster and improve their long-term memory.