Getting started
Create mind maps and folders
Tap on the + sign on the lower right corner, to create:
New mind map
Choose a template

New folder
Choosing a template will allow you to use a predefined theme and color scheme for your mind map, concept map or organigram.
We also offer mind map templates that are prefilled and contain instruction on how to complete them.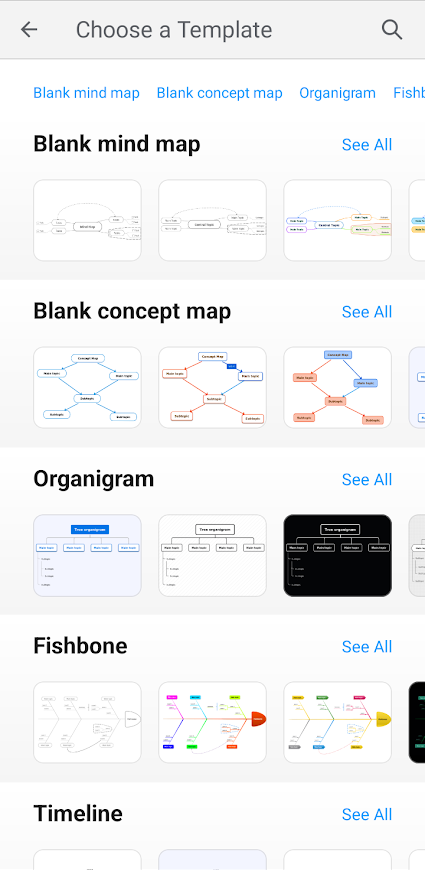 Add topics
Add subtopic by tapping on the first icon from lower right corner

Add sibling topic by tapping on the second icon from lower right corner
Speech-To-Text functionality
This functionality enables the recognition of spoken language into text.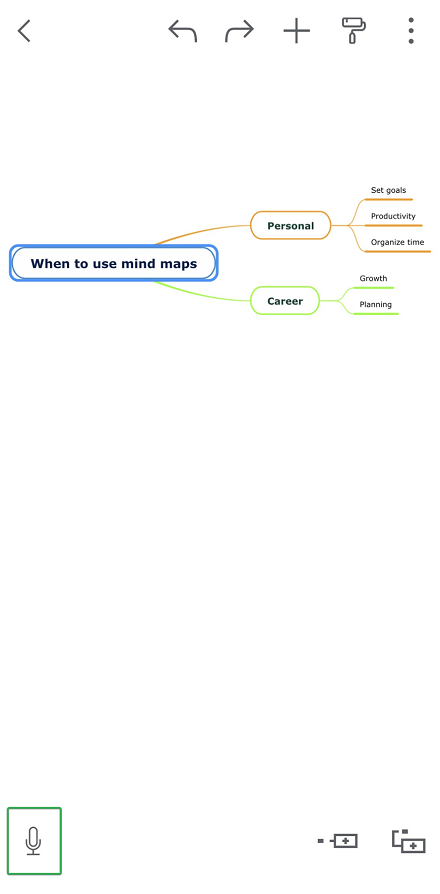 Before speech recognition, select the the language (1). You will be able to insert the text into a Note (2), into a selected (sub)topic (3), into a new sibling topic (4) and into a new subtopic (5).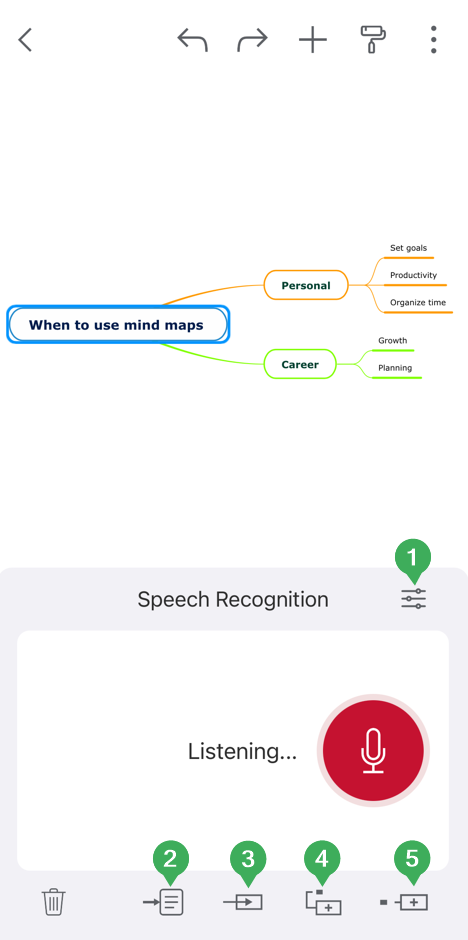 Topic customization
To customize a topic, tap on the Style icon from the upper right corner and then tap on the topic you would like to change: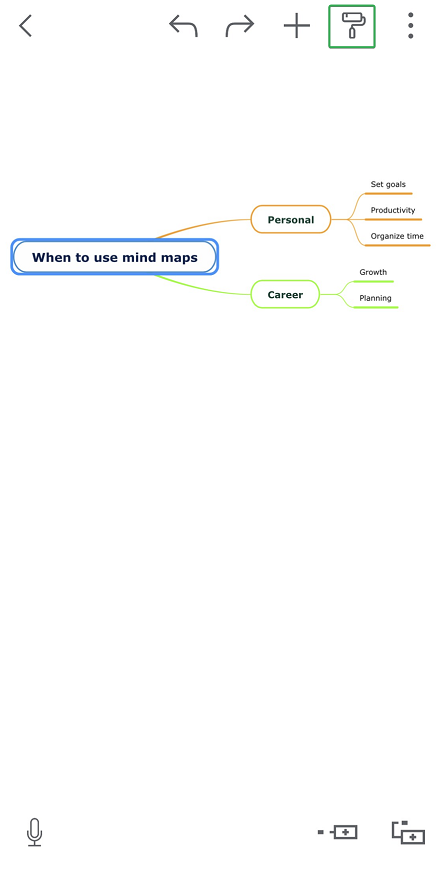 From the Topic Style panel, you can change:
Layout - choose from several layout types - can be changed for the whole mind map, or can be set for certain branches
Background Color - choose a background color for your topic
Shape - there are various topic shapes you can choose from: rectangle, rounded rectangle, elliptic rectangle, circle, oval, line, capsule, parallelogram, hexagon, rounded hexagon, diamond, left arrow, right arrow, trapeze, cloud, speech bubble etc.
Border Color - choose a border color for your topic

Border Width - use the two arrows to adjust the width of your topic's border
Text customization
From the Text panel, you can set:
Bold, Italic, Underline and Strikethrough - use these options to format your text
Alignment - you can choose Left, Center or Right
Font - choose from various font families
Color - select the color of your text

Font size
Line customization
From the Line panel, you can change:
Multiple Colors - enable this option if you want your connections to have a rainbow color scheme
Colors - you can select the scheme of colors for your connections. If the "Multiple Colors" option is not active, you will only be able to select a single color for your lines
Shape - there are various line shapes you can choose from: straight, arc, rough, curve, elbow, rounded elbow, angle, no line, etc.

Topic Border Width
Theme customization
From the Map panel, you can personalize:
Themes - choose one of the predefined themes
Background color - select a background color for your mind map
Keep diagram balanced- by enabling this option, the topics of your mind map will be auto-aligned
Auto Balance diagram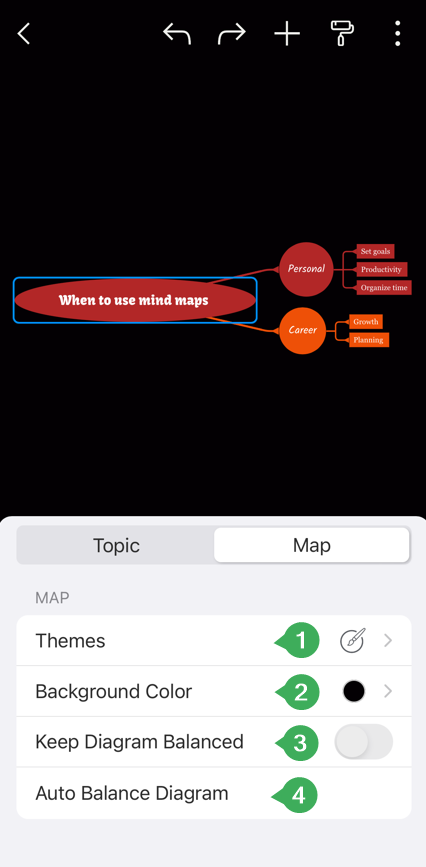 Insert panel
To enrich your mind map with notes, icons, images, etc., tap on the Insert icon on the top-right corner:
Notes - add or remove notes to the topics of your mind map
Hyperlink - add hyperlink to your topics
Attachments - add attachments

Relationship - add a relationship between two topics of your mind map. Tap on the relationship and then on the Style icon to customize the relationship label (1.color, 2.shape, 3.pattern, 4. and 5. arrows' endings, 6.width)

Icon - add icons on your topics. Tap on the icon from inside the list to remove it.

Task Info - set priority (1), completion (2), start and end date (3, 4). A checkbox will appear in front of task subtopics (5). Make sure that the Show completed tasks (6) option is enabled to view all the completed tasks.

Text Scan - With this option you can either scan the text taking a new photo or choosing a photo from library. After taking a new photo or choosing a photo from library you can: Replace text on topic, Add text as new subtopic, or Add each line as subtopic.

Image - you can take a photo (1), choose an image from library (2), or choose an image from Mindomo library (3)

Quick Draw - this option will open a blank canvas so that you can freely doodle, and insert your drawing directly in the topic

Audio - record audio

Boundary - add boundary to mark and determine the limits of an area on your diagram. Furthermore, you can change the shape (1), fill color (2), set border color (3), width (4) and pattern (5), edit label (6) or delete label (7).

Summary - After adding the summary, you will be able to customize its shape (1), border color (2), or border width (3).
Option panel
Play Presentation

Edit Presentation - to insert a new slide tap on + sign. Select the topics you want to include in your slide by drawing a rectangle on the screen with your finger.

By tapping on the number of the slide in the bottom of your screen, you will be able to delete a slide (1), duplicate a slide (2), resize a slide (3), and include/exclude topics from the slide (4).

Center mind map - use this option to reset the position of your mind map on the canvas

Export to PDF - store your mind map locally on your device, in PDF format
Export to PNG - store your mind map locally on your device, in PNG format
Share
Share with attachments
Search
Collapse diagram - use this option to hide all subtopics

Help page - opens the help section
Access your account/sign up with Gmail
Tap on the File menu

Then go to Cloud

Access your account with your registered email address and password or log in with Google
Log out
To log out from your account tap on the More icon then on Logout
Save changes to maps
The changes you've made to the maps in the local or cloud folder are automatically saved on your device.
Mindomo Cloud folder
The Cloud folder contains your maps from your online account.
When you are online, any changes you make to your maps in the Cloud folder will be automatically synced to your online account
When you are offline, the changes you make to your maps in the Cloud folder are automatically saved and when you reconnect to the internet, the changes you've made on your map when you were offline will be synchronized with the online version.

To move a mind map from your local folder to the Cloud folder tap on the More icon, then on Copy to Cloud. This will create a copy of your mind map in your Cloud folder.
Mindomo Device folder
In that folder are the mind maps that are located only on your device. They will not be synchronized with the online account unless you move them to the Cloud folder.
How to find your old diagrams
According to the new Android requirements, Mindomo will request storage permissions to a single folder used exclusively to store app files.
If you have used the Mindomo app for diagramming before, your diagrams . All you need is to find the old folder where Mindomo stored your files and give Mindomo permission to access the folder.
Selected folder 1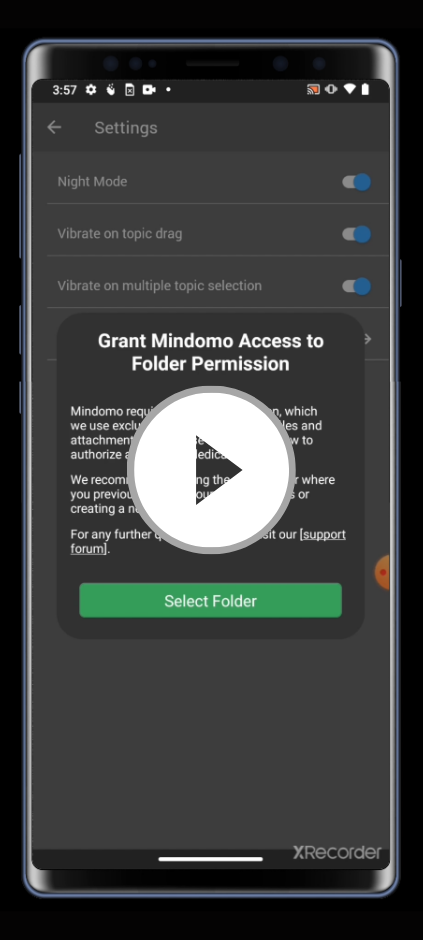 Mindomo stored your diagrams in your phone's internal storage. By default, most Android phones hide the phone's internal storage. You need to manually activate a setting to see all your folders in your phone's internal storage.
Please check out the video above that illustrates the procedure for a Motorola E7 Plus phone. Please note that the process might look different on your phone. If you can't find this option in your phone's settings, you should Google "show internal storage on ______ (your phone)" or watch the next video:
Selected folder 2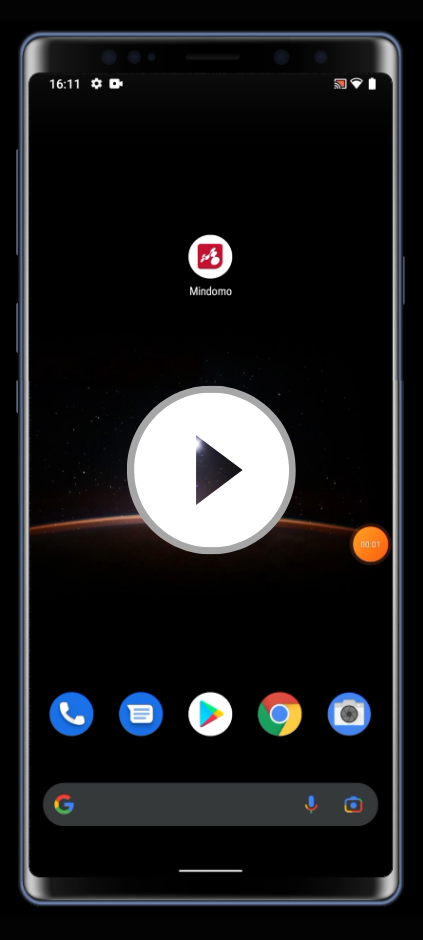 If the above steps didn't work, please check out the above video. Here, you can find a different solution that will help you recover your old diagrams.
Create folder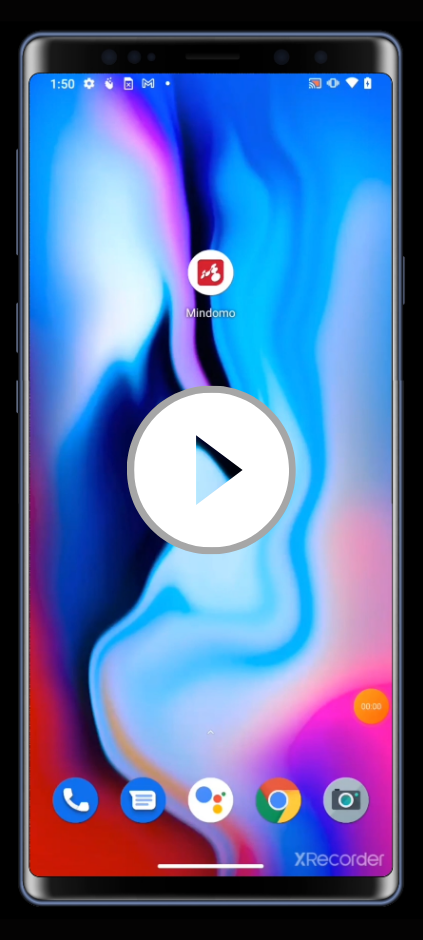 If you installed the app for the first time you need to create a folder where Mindomo will store all your diagrams. Please check out the video above on how to do it.