Team administration
Each team license has a unique team admin, who can add/delete users depending on the project you're currently working on, personalize the settings of the team account, etc. By default, the team admin is the person who originally purchased the license.
Team sharing
Each team will have 1 group folder, the Shared Team Folder, which allows any team member to instantly access their colleagues' work, no additional sharing needed.
Any mind map created or moved to this folder is shared with the other team members, who can then view it or edit it.
To move your maps to the Shared Team Folder and make them available to your colleagues, you can simply drag & drop them into the folder.

Info
The "Shared with me" folder is different from the "Shared Team Folder", as it contains any map exclusively shared with the team account, which will not be visible to the other members of the team.
A team member can also choose to share a mind map with the team from their personal account, without using the Shared Team Folder.
Click on the mind map's Share dialogue and type in the name of your team. This will act as group sharing: each member of the team will have individual access to the mind map and will see it in the "Shared with me" folder on their own accounts.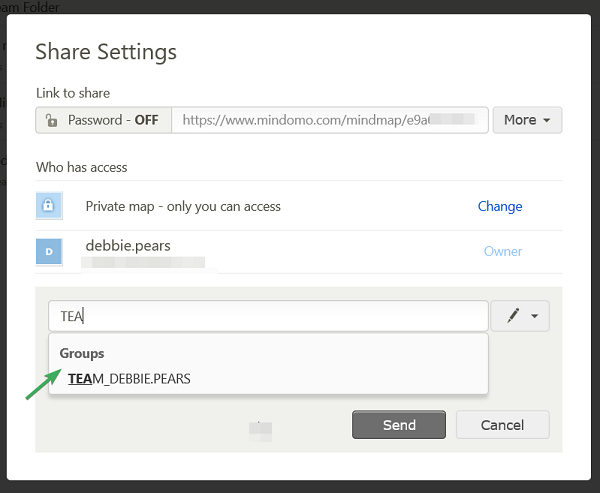 Customize the team account
Access the Team Admin page if you want to add/remove team members, personalize your team account or have a clear overview of the number of members/projects you can still add to your license.

Depending on the needs of your team, the Team Settings panel allows you to change the team's name or the name of your Shared Team Folder.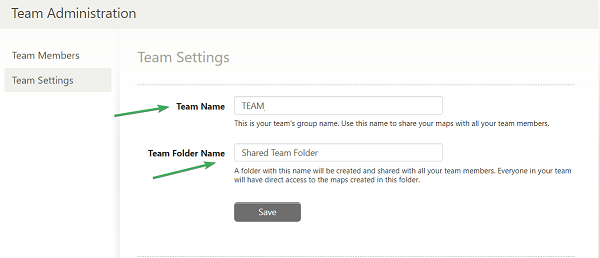 Add/Remove team members
Add or remove users from your team, depending on the project you're working on.
The "Add User" button (2) opens up a pop-up box with fields that need to be filled out in order to create new Mindomo accounts for your team members.
To add an existing Mindomo user to your team, select the "Add Existing User" option.
Hover over the name of any user on your list and you will see two icons allowing you to update their name or remove them from the team account.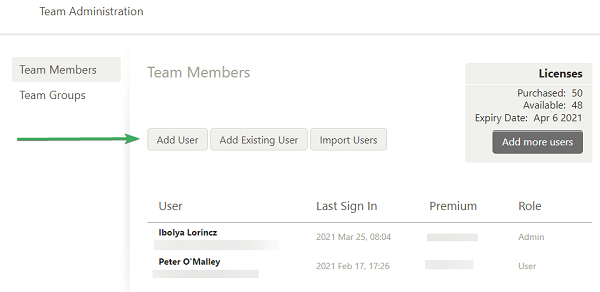 Easily import users to your team account from a .xls file. You will see a pop-up box with specific details on how to structure the user information. Fill out your file accordingly and then click on "Browse" to select it.